FooleryFest '19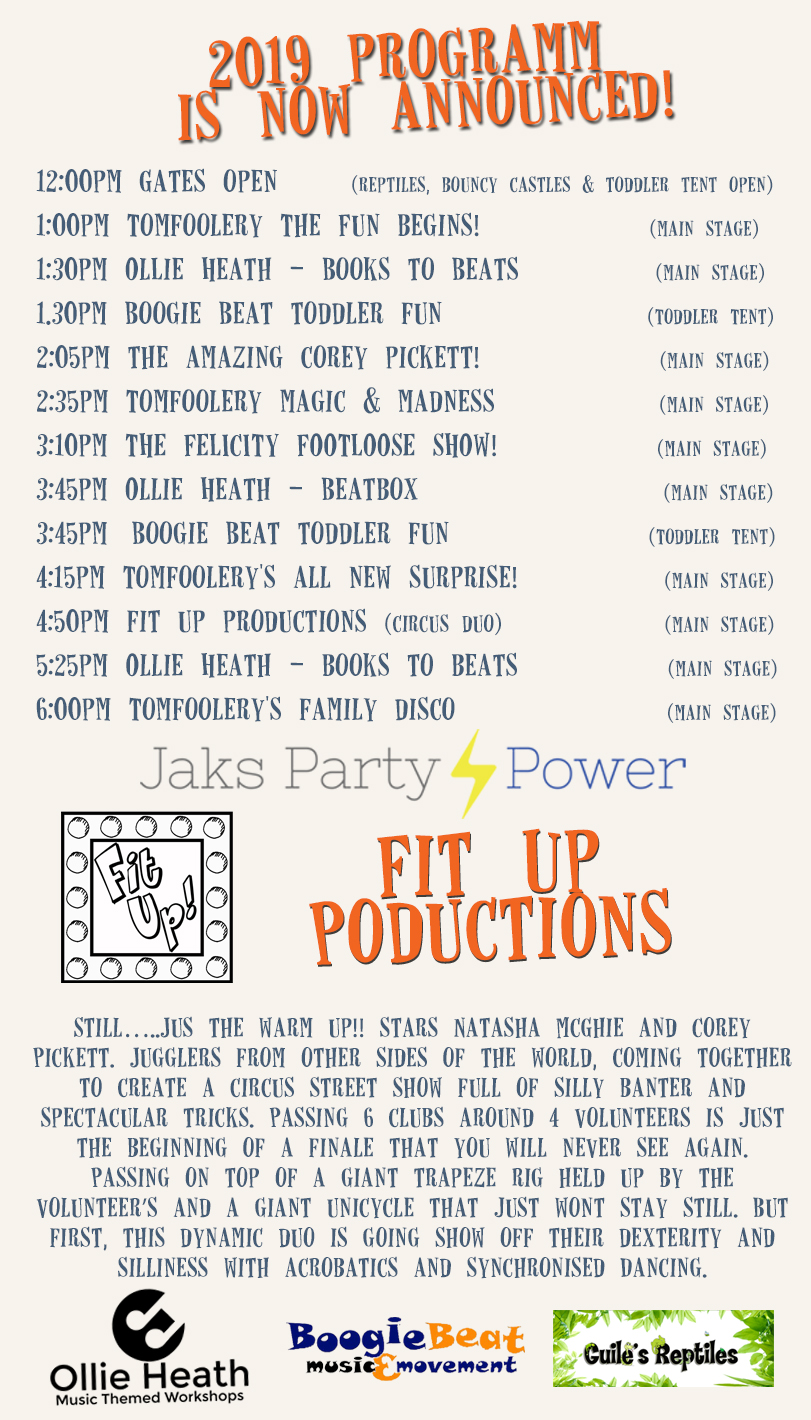 Standard price     on the door price
Child (2-13)                                  £12.50                    £15.00
Adult (13 & over)                          £2.50                      £5.00
FooleryFest is on it's way! Join Tomfoolery and family at the All England Jumping Course, Hickstead on 15th August 2019 for another day of fun in the sun (we hope). Regardless of what the weather does FooleryFest has proved to be a great day out for all the family!  This year we are going bigger, better and for longer than ever before! The amazing  Corey Picket returns but this time he's bringing a friend! As well as performing shows on the main stage Corey and Felicity will be running circus workshops throughout the day too!
Thanks to 'Jacks Party Power' the activity area will also be bigger and better than ever, with soft play for the toddlers and more bouncy fun for the bigger kids! Plus 'Boogie Beat' will be doing fun music and dance sessions in the toddler tent! And of course it wouldn't be FooleryFest without the return of Guile's Reptiles! Although Tom hates holding live creepy crawlies, it seems so many others love it! Or maybe you want to overcome a fear of spiders yourself!
What's more…everything, other than food and drink, is included in the ticket price!
The afternoon will also feature plenty of Tomfoolery shenanigans of course along with lots of ABRACDABRA BEANS ON TOAST! Then, the evening is rounded off with the Foolery Family Disco, so stick around and have a dance as Tom spins the wheelie bins of steel with classic party music, right through to current floor fillers!
Gates open at 12pm, stage starts at 1pm
Activities available from 12.30pm
Full schedule and timings TBC
Please feel free to bring a picnic blanket/chairs and your own refreshments if you so wish. Teas, coffees, cakes and treats will also be available at a sensible price! Funky Fish n Chip's and Rainbow Scoop Brighton will also be in attendance throughout! Tap water will also be available at no cost.